Stir-Fried Jerk Shrimp and Peppers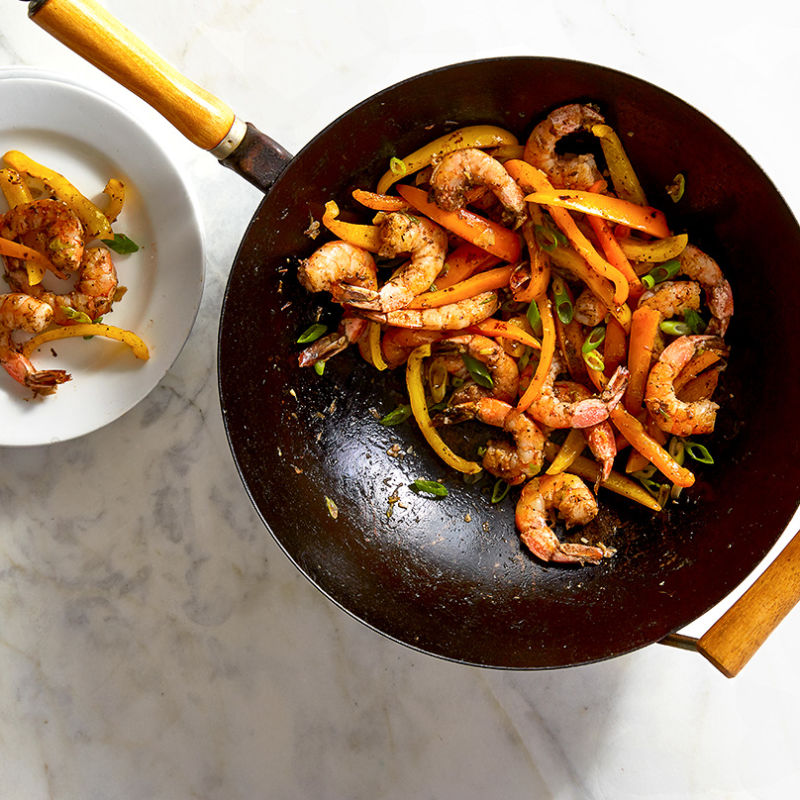 Sign Up Now
Get access to 1,000s of recipes
Get started with Weight Watchers today to have access to thousands of recipes. 
See our plans
After deveining and rinsing, thoroughly pat shrimp dry with paper towels. If they're wet when added to the wok, the stir-fry will turn into a braise.

Ingredients

2 Tbsp jerk sauce
1 Tbsp orange juice
3 medium uncooked scallion(s)
4 tsp peanut oil, or vegetable oil
1 Tbsp minced garlic
1 pound(s) uncooked shrimp, large, peeled, deveined, patted dry
3 cup(s), sliced orange bell pepper, and yellow beller peppers strips (1/4-inch wide)
1/2 tsp table salt

Instructions

Combine jerk sauce and orange juice in small bowl; set aside. Thinly slice scallions, separating green sections from white sections.

Heat a 14-inch flat-bottomed wok (or 12-inch skillet) over high heat until a bead of water vaporizes within 1 to 2 seconds of contact; swirl in oil. Add white parts of scallion and garlic; stir-fry 10 seconds or until fragrant. Push scallion mixture to sides of wok and carefully add shrimp; spreading them evenly in one layer. Cook undisturbed, 1 minute, until shrimp begin to sear; using a metal spatula, stir-fry 30 seconds, incorporating scallion mixture, until shrimp are orange but not cooked through.

Add peppers and sprinkle with salt; stir-fry 15 seconds or until just combined. Swirl in jerk sauce mixture; stir-fry 1-2 minutes or until shrimp are just cooked and vegetables are tender-crisp. Sprinkle on scallion greens; serve.

Serving size: 1 1/2 c

Notes

This is not a saucy stir-fry - the seasonings lightly coat the shrimp and vegetables. Two tablespoons of jerk sauce yield a medium-spiced dish. Add more or less to taste.