Chicken Cobb Salad with Creamy Avocado-Lime Dressing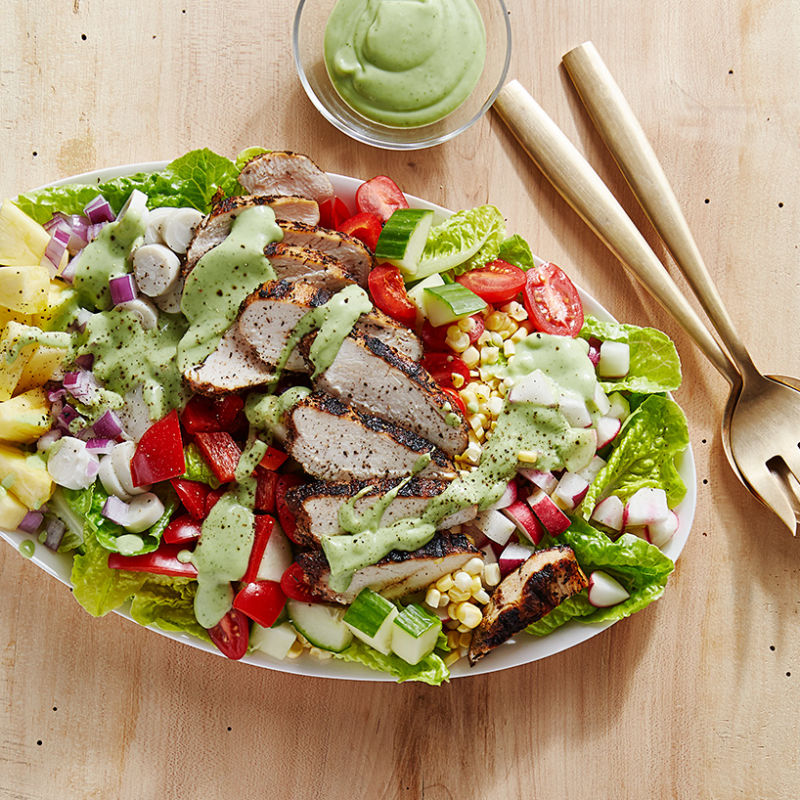 Sign Up Now
Get access to 1,000s of recipes
Get started with Weight Watchers today to have access to thousands of recipes. 
See our plans
This salad is loaded with color, texture and a great balance of spicy and sweet. The ingredient list is long but the flavor is well-worth it.

Ingredients

1 item(s) California (Hass) avocado, ripe
1/2 cup(s) cilantro, leaves
1/2 cup(s) water
1/4 cup(s) fat-free plain Greek yogurt
4 Tbsp fresh lime juice
1 clove(s), medium garlic clove(s)
1 tsp hot sauce
2 tsp lime zest, or to taste
1/2 tsp kosher salt, or to taste
1/8 tsp black pepper, freshly ground, or to taste
1/2 small uncooked red onion(s), diced
2 spray(s) cooking spray
2 1/2 pound(s) uncooked boneless skinless chicken breast
2 tsp extra virgin olive oil
2 Tbsp jerk seasoning
12 cup(s) romaine lettuce, roughly chopped
15 oz hearts of palm, canned, drained, sliced
2 medium corn, on the cob, kernels removed with a knife
1 1/2 cup(s) pineapple, diced
2 cup(s) grape tomatoes, or cherry tomatoes, halved
1 cup(s), sliced fresh radish(es), or jicama
1 large sweet red pepper(s), halved, seeded, chopped
1/2 medium English cucumber(s), diced

Instructions

Place avocado, cilantro, water, yogurt, lime juice, garlic and hot sauce in a blender or food processor; puree until smooth. Season to taste with lime zest, salt and pepper (you can make the dressing up to 8 hours in advance but stir in lime zest just before serving).

Soak onion in a small bowl of ice water to help tame its bite.

Meanwhile, off heat, coat a grill rack or grill pan with cooking spray; heat grill to medium-high heat.

Season chicken with oil and jerk seasoning. Grill, turning once, until grill marks appear and chicken is no longer pink inside, about 6 minutes per side.

Drain onion; squeeze dry.

Place lettuce on a large platter and arrange hearts of palm, corn, pineapple, tomato, radish or jicama, peppers, cucumbers and red onion in separate rows over top; sprinkle with salt and freshly ground pepper (optional).

Slice chicken on diagonal and arrange over vegetables; drizzle with dressing before serving.

Serving size: 2 c

Notes

Marinate the chicken overnight to amp up the jerk flavor.